By Melanie Detty
How fantastic is it that on the same trip, my path crossed the path of another Irene! Irene #2 is just as inspiring as the first!
Although Irene has never given birth to a child she serves as head of the home to her 6 siblings. She shares one room – not a house – just one room with her brothers Felix, Moses, Ezekiel and Abraham and her sisters Esther & Miriam.
They have one small bed which the 3 girls share and a mattress that is placed on the floor where the 4 boys sleep. On the walls of this room are 2 posters, a map of Africa & a diagram of the parts of a fish. They own a few dishes, a small stand and a couple of plastic tubs for washing dishes and for bathing. Their room is small, dark & basically empty except for the 7 beautiful faces that stared back at us the day we visited.
They were hungry when w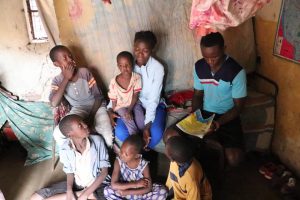 e arrived and had no food. We were there to interview the family but seconds into our visit we knew we were there for something much bigger. The cameras were shut off and remained off for most of our stay. We simply needed to just be…be with them, be part of them, be in the moment. We shared love & laughter, hand games & giggles, conversation & life goals and eventually food. As the children were given 2 pieces of bread and a cup of tea, the 3 youngest immediately ran to get their neighbor friends.
What happened next will forever be in my mind… they tore part of their bread and shared it with their friends… they had 2 pieces of bread and a cup of tea and it was important to them that they give part of what they had to a friend.
These seven sweet faces had lost a father to HIV/AIDS and probably had little
if any memory of a mother who had abandoned them years before. Irene had become the head of her home at age 14. Irene and her oldest brother Felix walk miles to and from school. They have no electricity so homework and chores fill their time after school.
With all this responsibility, Irene has managed to remain at the top of her class. She has amazing strength, but at times the burdens of life and desperation have made her consider dropping out of school and resorting to prostitution to provide for her siblings.
With the efforts of TCA (Taveta Children's Assistance), these ideas have been shelved for now and the faith of the entire family is evident. It is a beautiful thing to watch them praise God amidst their struggles.Their needs are great! I know there are many people in need all over the world, this family is who God has placed on my heart.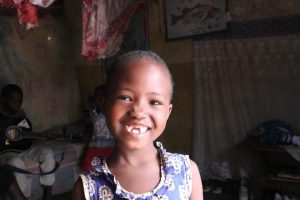 If you feel compelled to give in any way you can go directly to footholdinternational.org or send a check to me made out to Foothold international.
Either way you will receive a tax deductible receipt.
Please make sure to include "Irene 2" in the memo if donating online. I can verify the amounts below as accurate and the money will go directly where you intend.
Thank you for your time and most importantly keep Irene, Felix, Moses, Ezekiel, Esther, Miriam and Abraham in your prayers. They are without a doubt 7 of the most precious individuals God has placed in my life!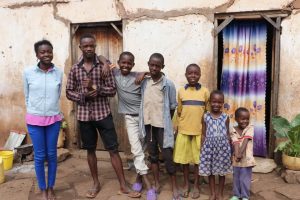 Rent: $14.00/month
Water: $5.00/month
Food for all 7: $100.00/month
School fees for Irene: $385.00 one time
School fees for Felix: $385.00/year
School fees for 5 primary students: $60.00 each/ year
uniforms: $12.00 each
shoes: $15.00 each
Bed, mattress & bedding $350.00 lump sum